In the midst of the worldwide Coronavirus crisis, life as we once knew it continues to constantly change. We continue to be stripped of so many things that were once a part of our every day lives. There we stand in the midst of it all, figuring out who we really are in this new normal.
We typically spend our lives working really hard to shape our own identity, to brand ourselves, so to speak. We want to control the kind of person we appear to be. Depending on our interests we pour our time into specific activities, sports, events, hobbies, and even into a particular kind of work or industry. We are constantly shaping the outward vision of "who we are" to the rest of the world. We desire to be seen and known as a particular kind of person and maybe even with particular achievements or successes.  We buy into the idea that all these things we have, do, and achieve are what make us who we really are, they create our identity, you might say.
And then, all of a sudden, the whole world has stopped (or so it seems).
No more sports.
No more concerts.
No more events.
No more social gatherings.
No more get togethers with friends.
No more travel.
No more sense of security.
For some, a loss of money.
For some, a loss of employment.
For some, a loss of business.
For some, a loss of health.
For some, a loss of loved ones.
For some, a loss of life.
We have been stripped. Stripped of all we thought we were, and all we thought we needed. This process of detachment can be hard and painful and sometimes very scary.
I think sometimes (world-wide health crisis or not) God allows us to go through a process of detachment from all the things and ways in which we try to identity ourselves so that we can learn and know our true identity, which is in Him and in Him alone.
The reality is, you will attach your identity to earthly things if you don't intimately know the source of your true worth and identity.
You and I, my friend, are first and foremost BELOVED children of the Father. This is our true identity. This is the ONLY identity that matters. The world will try to tell you otherwise, people might try to tell you otherwise, temptation will try to tell you otherwise, but that doesn't change the fact that it is your Truth. It's your Truth and it's my Truth, and it's each and every person's Truth whether we come to own it and believe it or not. Our identity in the Father is where we find life, and when you feel you have nothing left you really have everything you need.
Now, in the midst of this crisis, as each one of us are being stripped of our former lives, now is the time to dig deep and get in touch with your true identity.
So I'll start. I am Jackie Perry, a beloved daughter of the Father.
Who are you?
#belovedchild
Laughs and Love,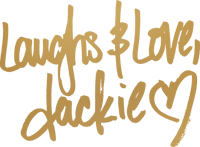 You might also like